The Matrix Coaching and Support staff are an outgoing group of individuals committed to making your athlete's Matrix experience a positive one! Our coaches come from many walks of life and have diverse backgrounds that allow them to excel at teaching all levels and different genres of trampoline, tumbling, and cheerleading.
Meet your Matrix coaches and staff below!
Tim Bergstresser,
​whiz kids & day camps

-2000-2003 Pitching and Hitting Instructor at Diamond Play Baseball
-Private hitting and pitching lessons for over 15 years
-Coached 8U, 10U and 12U softball, baseball,and soccer in Morgan County Recreational League for 6 years
-Currently Officiating all levels of recreational soccer for Morgan Co Recreational League
-Weekend Matrix manager

Jason BONilla,
east coast karate director & tumbling
eckbonilla@gmail.com

- UAH Cheerlading
- Alabama Army National Guard
- Jason is the Head Instructor and Owner of East Coast Karate. He has achieved the rank of 3rd Dan and won numerous awards in tournaments and competitions. Jason was selected for the 2006 IMA Team USA in sparring and forms to compete in the 2006 IMA Championships. With over 24 years of martial arts training and 14 years of experience instructing students, Jason is passionate about sharing his knowledge of Tang Soo Do with others
misty capps,
​personnel manager & crossfit huntsville kids' coach
mistyc@thematrixgym.com

- BS Physical Education with concentration in Sports Management from
Mars Hill College Asheville, NC
-Mars Hill College Women's Basketball Team, 1996-2000
-Masters in Physical Education/Teacher Education from WVU
-Level 1 CrossFit Trainer
​-CrossFit Kids Certified
-Over 25 years of teaching experience in the Huntsville City Schools

-Alabama A&M, Masters Degree, Secondary Education

-High School Cheerleading Sponsor, 1994-2010

-Coached numerous State Championship squads

-Graduated many seniors who then cheered in Division I schools including Alabama, Auburn, Vanderbilt, and The University of North Carolina
Hunter Jones,
​tumbling & cheerleading

Hunter began his tumbling and cheerleading career at The Matrix Gym and has been assisting with classes for the last 2 years until recently when he became an official part of The Matrix staff. Hunter has competed all over the SouthEast with The Matrix All Stars and was part of the Level 2 team that finished 2nd at the 2016 D2 Summit.

​
melanie league,
​whiz kids & cheerleading

Melanie comes to The Matrix from Arizona where she was not only an All Star Cheerleader herself, she also coached at Superior Cheer Outlaws for 2 years. Melanie also coached recreational cheer squads and was the Head Cheerleading Coach of Perry High School in Chandler, AZ.
She holds a BA English from UAH and has spent the last few years as technical and freelance writer, tutor, and cheerleading choreographer! The Matrix is excited to have Melanie join our team!
---

Originally from Mountaintop, Pennsylvania, Nikki grew up training at NorthEast Gymnastics Academy with renown Artistic gymnastics Coach Lori Dexter. She began her coaching career at age 16, then coached several years in college, and 5 years since graduation with a degree in Sports Commerce.
Nikki's Career Highlights Include:
-Competed three years at the Elite level, including one season as an International Elite
- Two-time Level 10 J.O. National qualifier
- Level 10 Regional All-Around Champion in 2007... Went on to finish fifth on vault, sixth on bars and tenth all-around at J.O. National Championships
- Full gymnastics scholarship to Louisiana State University

---

- 1984 - 2000 Trained and competed in jazz, tap, lyrical, acrobatics, & hip hop in AZ and AL; numerous convention scholarships
- 1993 - 1996 JV and Varsity Huntsville High School Cheerleader & Captain; 2 time UCA All American
- 2000, BA English, Birmingham- Southern College
- 2000 - 2002 Coach, University of North Carolina Chapel Hill, Dance Team
- 2002 - 2005 Dance teacher, Jill's Studio of Dance
​- 2016 - present Mayfair International Park Cheerleading Director and Coach


---
lisa thamez,
​tumbling, whiz kids, & artistic gymnastics

-1986-1990, Competitive T&T Athlete, Snyder Springers, Synder, TX

-1994, NCA All American Cheerleader

-1995-2004, T&T Team & Recreational Coach at Synder Springs T&T and Lubbock Fine Arts T&T

-2001, BA English, Texas Tech University

-2004-2007, Artistic Gymnastics Coach, FLIPS USA

-2005-2010, Assistant Team Coach, Legacy T&T, Reno, NV

-2007-2010, Artistic Team Coach, Levels 3&4 and Special Needs Director, High Sierra Gymnastics, Reno, NV

-1995-2012, USAG Professional Member, USAG Safety Certified, USAG Certified T&T Judge, USAG Level 1 Certified
-1972, 6th place, World Trampoline Championships

-1975, 1976, 1977, Most Valuable Gymnast at George Williams College

-1979, Rhythmic Group Hoop Champion

- 1983, Wisconsin State Power Lifting Champion

-1991, USAG Junior Olympic Developmental Coach of the Year

-1997 & 1999, USAG Trampoline Coach of the Year

-1998, USAG Tumbling Coach of the Year

-1993-present, USAG National T&T Mens' Coaching Staff

-1993-present, USAG National Mens' Diving Coaching Staff

-2001-2004, USAG National T&T Team Coordinator

-Currently on the USAG National Jump Start Coaching Staff

-Currently on the USAG National Junior Coaching Staff for Men's Gymnastics

-Holds a Level 5 USAG T&T Coaching Certification

-Master's Degree in Physical Education Administration
-Been published in countless magazines and journals regarding training and trampoline discipline
Fitness, PlayCare, & desk Staff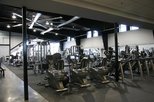 Brooklyn McMullen
Amber Tripp
Natasha Urbanowicz
Maggie Wanscheck
Vicky Webber
All Matrix coaches are usag, CPR, and first aid CERTIFIED.

A special thanks to 911 Ready for preparing our staff in case of a cardiac emergency. The Matrix is equipped with 2 AED machines and a staff prepared to use them in the event of an emergency. It is estimated by the American Heart Association that over 50,000 lives will be saved because of workplace AEDs.