Huntsville's One of a Kind Place to Train!
The Matrix Tumbling & Cheerleading Program
are the keystones of what makes The Matrix a "one of a kind" place to train! Skills learned inTumbling & Cheerleading classes will help athletes gain strength, agility, body control and more.
Tumbling and Cheerleading classes are divided by ability, then age. Classes are available for toddlers through adults. The schedule accommodates families by having several class levels at each hour so that siblings may take class at the same time. The Matrix will strive to keep a 1:6 coach to student ratio for ages 5 & under and a 1:8 ratio for ages 6 & older.
Matrix Staff:
The Matrix is proud to have a world renowned staff when it comes to Tumbling & Trampoline and Cheerleading! The coaches are all USAG certified in T&T and Safety and all of our staff members are CPR and First Aid trained.
MONTHLY TUITION:
Tuition is posted on the 1st of each month and due by the 10th of each month. Accounts are set up on a monthly credit card/debit card charge, but can be paid by cash, check, or through the portal on a different card anytime before the 10th. Late fees are only incurred if the card The Matrix has on file is not processed for insufficient funds or is expired. A $35 Registration fee is due annually for the first child and then $10 for each additional child. Registration fees are good for 1 year from the date of payment. Class tuition begins at $60/month and discounts are built into the total number of weekly hours a family takes. Please call 256.533.5599 for more information regarding tuition.
PRIVATE LESSONS:
Private lessons can be scheduled through individual coaches or you can call the desk at 256.533.5599 and we will be happy to get you in touch with the appropriate coach. Athletes
DO NOT
have to be enrolled at the Matrix to take Private Lessons. Payment for Private Lessons is
DUE AT THE TIME OF SERVICE.
INCLEMENT WEATHER POLICY:
The Matrix will remain OPEN for classes UNLESS the weather is threatening tornadoes. Classes will NOT be canceled in the event school lets out early for rain or freezing weather. The decision to cancel Matrix activities will be made solely by Matrix management and will be posted on our website and sent in an eblast. NO tuition refunds will be given in the event that weather forces The Matrix to close. Please feel free to call our front desk at 256-533-5599 if there is ever a question as to whether we are open or not. PLEASE SIGN UP FOR OUR FREE TEXT MESSAGING SERVICE FOR IMMEDIATE ANNOUNCEMENTS BY TEXTING @thematr to 81010
T&T Classes are divided by level:
(Mastered Skills show no noticeable flaws and no degradation of power)
Beginner 1:
This class is for students who are Age 6 and up who have never had any kind of tumbling! This class is an introduction to basic skills, gym etiquette, and gets atheltes ready to move into Beginner classes with athletes who have been tumbling for awhile!
Beginner
: This class is for students who are NEW to tumbling or students who are still working on rolls, handstand forward rolls, handstands to bridge, bridge down to an 8" mat, and cartwheels, basic body position jumps and drops on trampoline.
Advanced/Beginner:
Students have MASTERED Beginner skills and working on 1-arm cartwheel, round-off, bridge down kick-over on flat surface, front limber, and back limber.
Intermediate
: Must have MASTERED all Beginner and Advanced Beginner skills and is working on front and back walkovers, aerials, round-off back handspring(s), standing back handspring, front handsprings, front tucks.
Advanced
: need mastered standing back handspring and round off back handspring without spot on all surfaces to enter this class, will work on drills for standing back tucks and tucks after running tumbling. Progression will move into fulls, double fulls, whip progressions, layout step outs, and elite skills.
Adults:
All skill levels welcome.
OPEN GYMS (Ages 6 and up):
The Matrix has OPEN GYM
EVERY
Saturday morning from 9:30am-11am for Ages 6-11 and 11:00am-12:30pm for Ages 12 and up! Grab your friends and come on down for an hour and a half of supervised play or grab one of our coaches and have them give you a little extra help on a certain skill! Space is limited! $5 for enrolled athletes and $10 + a signed waiver for non-enrolled athletes. Please check our Calendar of Events for any Saturday we are not having Open Gym due to a competition or a clinic.
PLEASE REMEMBER THAT STREET CLOTHES ARE NOT PERMITTED AT ANY TIME IN THE GYM. NO JEANS, BAGGY CLOTHING, OR "DANGEROUS" CLOTHING (i.e zippers, brads, rhinestones) ARE PERMISSIBLE. THE MATRIX RESERVES THE RIGHT TO ASK ANYONE WEARING UNACCEPTABLE CLOTHING TO LEAVE OR CHANGE BEFORE ENTERING OPEN GYM. WE APPRECIATE YOUR UNDERSTANDING.
---
The Matrix Dress Code:

We recommend shopping at
bloom dancewear
, right down the street at 3050 Leeman Ferry Road! They always have a HUGE selection of leotards and hot shorts appropriate for gymnastics and cheerleading and usually have great sales going on! They also honor competition's coupons, so stop in and see them for an awesome shopping experience!
ALL Gymnastics classes and CheerTrix classes Ages 6-18:
Female athletes
: a leotard, a leotard with tight fitting "hot shorts" and/or a biketard are permissible. NO t-shirts, baggy shorts, or street clothes are allowed. All hair must be secured back and no jewelry.
Male athletes
: Tight fitting athletic attire including compression shirts and athletic shorts are permitted. No khaki shorts/pants or baggy shirts. Male gymnastics apparel is encouraged and available for purchase at bloom dancewear.
Adult Gymnastics:
For safety and spotting purposes, tighter fitting athletic apparel is encouraged for men and women. Leotards are not required.
Open Gyms:
ALL athletes must wear athletic attire, however, leotards and tight fitting apparel are encouraged for safety. Please, no baggy street clothes or half tops for girls.
Squad Cheerleading Training:
If no squad outfit is required, cheerleaders must wear a tight fitting top and athletic shorts. No large t-shirts or loose fitting tops are permitted. Hair must be secured back and no jewelry. No running shoes with thick treads are permitted. Clean cheer shoes only, please.
The Matrix Facility
Over 40,000 square feet of amazing space and equipment!
THREE 20-foot in-ground tumble tracks
TWO 12-panel spring floors
ONE 42x42 Artistic Gymnastics spring floor
ONE 60ft in-ground Tumble Track
TWO huge in-ground pits
ONE above ground pit
ONE amazing pit bar and ONE trench bar
TWO in-ground trampolines
ONE 85ft rod floor
ONE above ground Tumble Track with bar trainer
SIX AAI Adjustable balance beams
ONE AAI Competition Vault and runway
TWO sets of Uneven bars
Pit Bar AND Trench Bar System
Quad Bar System
Climbing Rope
Mats, mats, and mats!
A downstairs and an upstairs viewing gallery with free wi-fi for busy parents and caregivers
---
Whiz Kids and Whiz Kids Tiny Tots Program (Under age 6)

Just another reason The Matrix is a one of a kind place to train...The specialized Whiz Kids and Tiny Tots gym. We know our tiniest tumblers deserve extra attention and can easily be overwhelmed in such a large facility, so lucky for them, they have their very own 3,000 square foot gym fully equipped with everything from their very own AirTrack to a triangle swing into a mini foam pit! Some people don't even realize we have a preschool gymnastics program, but our dedicated preschool gymnastics coaches make developing motor skills, hand-eye coordination and balance TONS OF FUN! Whiz Kids and Tiny Tots classes are offered morning, early afternoon, afternoon and evening to fit any busy parents' schedule! Classes are divided by age and we even have a NEW Whiz Kids Rising Stars program to accommodate our more advanced Whiz Kids!
WHIZ KIDS CLASS LEVELS AND DESCRIPTIONS:
---
Whiz Kids Tiny Tots (Under age 3)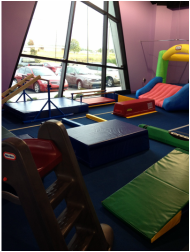 This class is especially designed for toddlers under the age of 3! Tiny Tots' classes are for parents and toddlers who wish to take class together--combining music, instruments, tumbling, trampoline, and flexibility, parents will participate in this class with their child! AND unique to our program, our Tiny Tots have their VERY OWN GYM with tiniest equipment available!
---
Whiz Kids 2, Whiz Kids 3, and Whiz Kids 4&5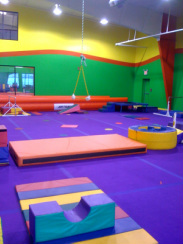 Unlike other facilities in the area, The Matrix takes athletes beginning at age 2 into the gym without a parent. This program allows them to begin focusing on enhancing locomotive skills, balance, hand/eye coordination, entire body strength, as well as, kinesthetic awareness. The Matrix program provides an athletic foundation for Tumbling & Trampoline, as well as any other sport!

All Whiz Kids classes are taught by our USAG certified staff and The Matrix will strive to keep a 1:6 ratio in these classes.




​WHIZ KIDS OPEN GYM:
The Matrix has Whiz Kids Open Gym EVERY MONDAY THROUGH THURSDAY afternoon from 12:15pm-1:15pm,
EVERY Monday and Friday morning from 9:15am-10:15am AND EVERY Saturday morning from 8:30am-9:30am! Kids under age 6 can come and explore and enjoy the "Big Gym" on their own while supervised by our staff! It is a PERFECT time for busy moms to take a Group Fitness class, get a work out in, or even work on their computer using our Free Wi-Fi! Open Gym is $3 for enrolled students and $5 + a signed waiver for non-enrolled students. Grab your play date group and come on down for some serious FUN! Frequent Jumper passes are available at a discounted rate.
---